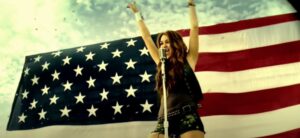 Since Joe Biden won Pennsylvania on Friday, his supporters have been celebrating his victory while Trump supporters have been rallying as they refuse to accept defeat. The entertainment industry has also been affected by this jubilation. In 2009, Miley Cyrus released 'Party in the USA,' a party jam that was enjoyed by people of all ages at the time. This week, the song and many others made a comeback.
Americans Celebrate Biden's Win With Party in the USA
On Saturday, Party in the USA started spiking on the charts. At the time of writing, sales had surged by more than 810%. This is according to the data on Billboard and Chart Data. On Apple's iTunes, the song is back on the top 200 most popular hits in the United States. People from all over the country have been dancing to the song.
 Taking to Twitter, Miley Cyrus posted several videos of different people dancing to her song in celebration of Biden's victory. She also posted a video of President-elect and Vice President-elect, Joe Biden, and Kamala Harris dancing to the song while Donald Trump was being removed from the podium. In Washington, as seen in her videos, many people were singing Party in the USA as they gathered on the streets in celebration of Biden's victory.
 Apart from Party in the USA, many other songs have been trending because of the elections. In 2016, the rapper, YG, released a song titled FDT which is short for F*** Donald Trump. This song saw a 300% surge in sales on the 3rd of November. By Saturday, it had surged by 740%. Many celebrities posted videos of themselves listening to the song to spite Trump and all his supporters as they celebrate Biden's victory. Biden will soon be sworn in as the 46th President of the United States of America.